The overriding imperative of the Christian is the Gospel: living and sharing the news of Jesus our savior. The Gospel is not a bar to pass "in order to become a Christian." The Gospel is the defining nucleus of the Christian life. All ethics flows from the Gospel. I am grateful for the title of Pastor Timothy Keller's publishing work:
Gospel in Life
. Grace does indeed change everything.
Franklin Graham's recent statements make no sense when held up to the Gospel.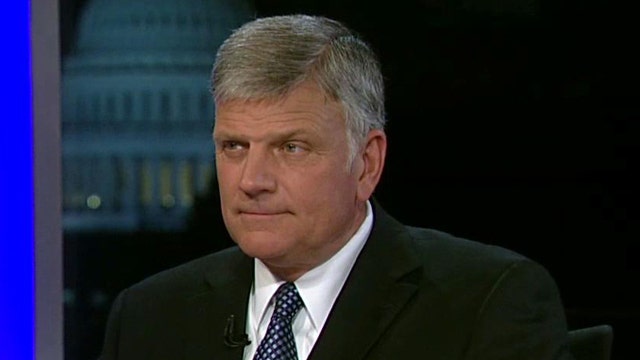 In response to some ads from secular companies featuring homosexuals, he says:
Let's just stop doing business with those who promote sin and stand against Almighty God's laws and His standards. Maybe if enough of us do this, it will get their attention.
And so he won't buy from Tiffany and he won't bank at Wells Fargo, or something.
To quote the younger generation: I can't even.
A Few Thoughts on This Nonsense
1.
From an utterly pragmatic stance, his efforts will have no effect whatsoever.
Do you remember when the
Southern Baptist Convention voted to boycott Disney
? Remember the disastrous effects of that boycott on Disney's bottom line? Yeah, I don't either. For eight long years good Southern Baptists did what they do most every week: ignore the sanctimonious and Pharisaical pleadings of their Pastors whilst doing just about whatever they please. They watched Disney shows and went to shake Mickey's hand down in Florida and out there in godless California. Franklin Graham has effected nothing by this pronouncement. Good thing he didn't call for a boycott or he would have to tuck his tail and run like the
SBC eventually did
.
2. From the perspective of the Gospel, Franklin Graham has only pushed people further away from Jesus. I will argue this point strenuously until my last breath: no one is made righteous through the approximation of biblical law in American law. We cannot make someone better. We can safely execute justice and protect lives. We can seek to justly run a society by imprisoning those who commit crimes. But we cannot - cannot! - make people good! We cannot make people believe in Jesus! These are not things that we can do with our threats, with our batons or our guns. Goodness and righteousness flow from the Holy Spirit alone, right? Am I alone in beating this drum?
3. It is absolutely impossible to stop doing business with "those who promote sin and stand against God's laws." Do I need to even argue this? Are you going to root out every company that does wrong? Where do we begin? Stop eating bananas, drinking coke, driving Fords (or cars in general, really), using oil, wearing clothes... I mean, EVERYONE ON EARTH PROMOTES SIN AND YOU OUGHT TO BELIEVE THAT MR. GRAHAM. There is none righteous! Not one!
4. It is raw stupidity in the light of the Great Commission to suggest that we stop doing business with "those who promote sin and stand against God's laws." How on earth are you supposed to reach actual human people with the news of Jesus without interacting with / doing business with / working alongside / actually engaging with people who need to be saved?
--
On Fear
The root of comments like Graham's or Mr. Huckabee's about transgendered folks is fear. Fear has invaded the evangelical church to a degree that I could not have imagined a decade or two ago. Fear saturates the foyer conversations of churches large and small across America. Fear fills pulpits right now. Fear loves social media and fills our Facebook feeds.
What is this fear? It is a base thing, hard to grasp, ill-defined.
Fear spills out from young parents who don't know how to talk with their kids about sexuality for fear that they will end up doing or being something the parents hate.
Fear spills out from the older folks who remind me time and again that Jesus must be coming soon because the world is surely worse than it has ever been (patently untrue), that governments are crumbling all over (another falsehood), that a Muslim is in the White House (nope), that morality has reached an all-time low (again, no), an so on.
I weep - actual tears falling from my eyes - when I see this fear saturating the Church. Are we not the triumphant people of God? Do we not remember that Jesus told us to take heart because he has overcome the world? Do we not draw comfort from his Gospel and defeat of death itself? Are we not the Mockers of Death, the Conquerors of Fear itself?
Nothing - NOTHING - shakes the Gospel or the Kingdom. It will not be moved. Why this fear? Why react so strongly to gay folks on the television or transgendered people in Vanity Fair? Why not recognize that we Christians are and always have been a people who are no of any given country, class, race, or land. We are a people who transcend time itself. America may well fall apart because of bad leadership or too many wars or moral decay. In fact, I promise America will do this one day! When she does, we Christians will not cease our worship, will we? Is America the Kingdom of Heaven? Is God the God of America alone?
I am convinced that responses like Franklin Graham's are the dying gasps of a movement of God's people - an evil movement - that placed its trust in political leadership and political power instead of the Kingdom of Heaven and her King, Jesus. These people are afraid because their movement failed. The Moral Majority accomplished little of substance and nothing of lasting value. As these kinds of movements fade and their losses become more obvious I hope that we the Church can go back to the business of being the Church and again focus on Christ and him crucified and resurrected.
We are not cultural arbiters. We are not kingmakers. We are mere Christ-lovers. Let's stick with that. It is enough.