So there's this law - the
Houston Equal Rights Ordinance
- that says you can't discriminate on sexual identity, genetic information, all kinds of other stuff. Problem is, the law extends to bathrooms, and seeks to meet those who are half-gendered or other-gendered (transsexuals, etc) by allowing individuals to pretty much choose which bathroom they want to go into. The idea here is "hey, there are people who are between genders or who self-identify as something other than their birth gender, so let's let them go potty where they are most comfortable."
Odd thing, this ordinance: first, it basically puts the burden of proof on the a business owner to determine whether or not someone is a pervert or just in-between genders (or whatever). And you can't really do anything when a pervy-looking fellow is hanging out in the ladies' room for hours when he can just say "I'm a lady in a man's body." What can you say to that, when the law is on that pervy-looking fellow's side?
Second, and even more odd: there's this religious exemption, which is kind-of only going halfway with this thing, isn't it? I mean, if those who are transsexual or other-gendered or whatever are TRULY a protected class (like, say, blacks or hispanics, Christians, Muslims, Sikhs are and should be), why exempt churches? We would never say to a private Christian school "hey, you can totally go ahead and exclude all black people because of your religious beliefs. Go ahead." Nope, nope, nope. There is a ministerial and employment exemption to the Civil Rights Act, but no general religious exemption for public facilities. To me, the Houston Ordinance is not a compromise but waffling, a backing down in the face of what would be a much larger battle.
Third, though, here's the thing: the very IDEA of the gender spectrum (as opposed to the old-school, traditional duality of male/female, you know, that you grew up with), while being so clung to by those in the LGBTQ community as a basis for protection and allowing people to pursue a "lifelong" coming-out process, is not going to be the end-point for these folks, because they are beginning to rightly recognize that gender and sexual orientation, when NOT tempered by an outside restricting moral force (as in a culture that says "no, that is wrong, don't do that" or a Church that gives some rules), will happily pursue every kind of sexual ambiguity! Sexuality becomes quite fluid when not re-inforced by culture?! WHO'D'VE THUNK IT?
Think of sexual identity and sexuality as some non-fixed thing, like water: without a container, water goes where it pleases. Folks will pursue pleasure where it takes them when not restricted by morality or faith.
This will be the end point of the folks who brought about #HERO: the destabilization of gender and sexuality into a fluid spectrum wherein you self-direct your sexual behavior based on preference, because why not?
Funny, how these liberals are all secretly moral libertarians.
--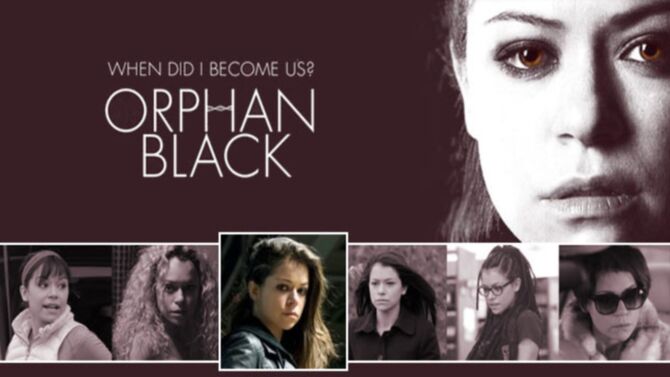 Where does the hit new show Orphan Black come into play? (Disclaimer: this is not a show you should watch, likely, unless you are extremely unaffected by all kinds of deviant sexuality. I was quite shocked)
First, it is an amazing show: well acted (incredibly well acted (did I mention well acted?))), beautifully shot, and well acted.
Second, and more importantly, it is the most sexually deviant mainstream show on TV. One of the main supporting actors is a gay prostitute, and there's some gay sex, straight sex, lesbian sex on here, all done by the main actress (who I would love to see in any other context, because this stuff is so dehumanizing). There is an agenda pouring through the whole show: all kinds of sexual behavior are A-OK. In fact, the most uptight, rude, least self-controlled, generally bad personality in the lot (other than the murderous Ukranian) is the most sexually-straight (operating as she does in a traditional marriage). "See!" the show screams, "marriages aren't all that --- the gay prostitute is even happier than her!"
The conceit of the show (SPOILER ALERT) is clones: the main actress plays like eight of them and does so with gusto. These clones have vastly different lives but identical genes.
Thus, we finally settle nature v. nurture: by way of a TV show.
Seriously: identical genes, but one is transsexual, one is bi-sexual, one is murderous and largely a-sexual, one is promiscuously straight but uses her sexuality as a defense mechanism, and one is aggressively straight but exists in a sexually frustrated marriage. Same genetic material!
Why does this matter?
One of the counter-arguments for sexuality has been - for years! - that sexuality is hardwired, to some great extent, in the brain. This show reveals quite the opposite, intentionally or unintentionally. Sexuality is, by Oprhan Black, the result of upbringing, circumstance, and self-direction. And every kind of sexuality is A-OK. The genes don't determine our futures.
--
What's happening is this: the old switcheroo. While the hardcoded argument for sexuality and gender identity has been used for years to prop up the argument that folks cannot "choose" their sexuality but must discover it through whatever process in whatever time it takes, soon we will begin to hear, read, and see more of what we see in Orphan Black: sexuality and gender are NOT hardcoded -- they are instead somewhere between nurture and choice and can be chosen and discarded at will. This is the new Sexual Revolution: be what you what to be, and everything will be just fine, because it's all good, baby. It's all good.
Nevermind Born This Way, Lady Gaga: this is America.
We are self-made, all of us, apparently even down to our sexual organs.
--
(now if somewhere down the road, we see that Orphan Black suddenly reveals -gasp! - that gender identity was written into all these clones, we'll just assume someone read this blog...)